Chiropractor Brian Smith D.C.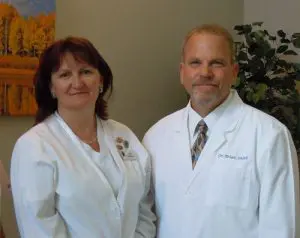 Born and raised in Minnesota, Brian Smith graduated high school in 1974, enlisted in the United States Marine Corps, and after serving four years, was honorably discharged in 1978.
In 1986, after completing undergraduate studies at Metropolitan State College Denver and Minnesota State University Mankato, Brian began his doctoral studies at Palmer College of Chiropractic, Davenport Iowa. Doctor Smith graduated from chiropractic school in 1990, has held Associate Doctor positions in Colorado and Wyoming, and in 1992, Brian and Anne Smith chose Cheyenne, Wyoming as their home. Dr. Smith started Cheyenne Family Chiropractic on 18th Street in downtown Cheyenne in 1992, and in 2009 the office moved to its current location, at 1439 Stillwater Avenue in Cheyenne.
Practicing over 25 years, Dr. Smith is one of the most experienced Chiropractors in Cheyenne, Wyoming, having provided thousands of patients of all ages with quality Chiropractic care.

At Cheyenne Family Chiropractic
Even after well over two decades in practice, I am still inspired, on a daily basis, by what Chiropractic can do beyond relieving the pain and other symptoms caused by injury or illness.
I will personally work with you to help you achieve optimum health as quickly as possible. Through thorough examination I will locate the underlying cause of your symptoms, explain the problem, and discuss your treatment options.
Away from Cheyenne Family Chiropractic
I met the girl of my dreams in 1978, and have been happily married to my best friend, Anne, for 37 years. We are blessed with four children and two grandchildren. Outside of work, we enjoy spending time with our family and our dog Pete, hunting, fishing, gardening, and the occasonal game of Rummy or Cribbage.
"Thanks for visiting our web site. I look forward to meeting you in person and learning how we may be of service to you. Give our office a call, so we can help you take the first step toward better health."
OFFICE HOURS
---
Monday
8:00am - 1:00pm
3:00pm - 5:30pm
---
Tuesday
8:00am - 1:00pm
3:00pm - 5:30pm
---
Wednesday
8:00am - 1:00pm
---
Thursday
8:00am - 1:00pm
3:00pm - 5:30pm
---
Friday
Closed